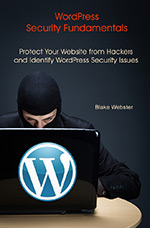 WordPress Security Fundamentals
Protect Your Website from Hackers and Identify WordPress Security Issues
By Blake Webster
$5.69

Hacking attempts on WordPress sites are on the rise.
According to BBC News, the WordPress platform currently powers more than sixty four million websites that are visited by more than three hundred and seventy one million people each month. Survey website W3Techs reports around seventeen percent of the world's websites are powered by WordPress.
Hackers tend to find WordPress to be easy prey, due to its extensive use of plugins, which total more than twenty five thousand. A recent study by Checkmarx found that no less than thirty percent of the top fifty WordPress plugins were determined to have one or more critical flaws.
WordPress Security Fundamentals is a no-nonsense guide that will help you to identify, eliminate and protect your WordPress website from malicious hacking attempts.
Product Details
Paperback: 72 pages
Publisher: CreateSpace Independent Publishing Platform (October 21, 2013)
Language: English
ISBN-10: 1493555871
ISBN-13: 978-1493555871
Product Dimensions: 8 x 5.2 x 0.2 inches
Blake Webster is a web and multimedia developer, digital product developer, web publisher, search engine optimization consultant, internet marketer, photographer, published author, environmentalist and publisher of the online magazine Greener Living Today ®.
He has taught web development and consulted businesses in the San Francisco Bay area since 1996.
He also works with authors by promoting their work online, laying out manuscripts for CreateSpace and converting manuscripts for Amazon Kindle.
In addition Blake offers workshops for WordPress, social media, social media SEO and Kindle marketing.